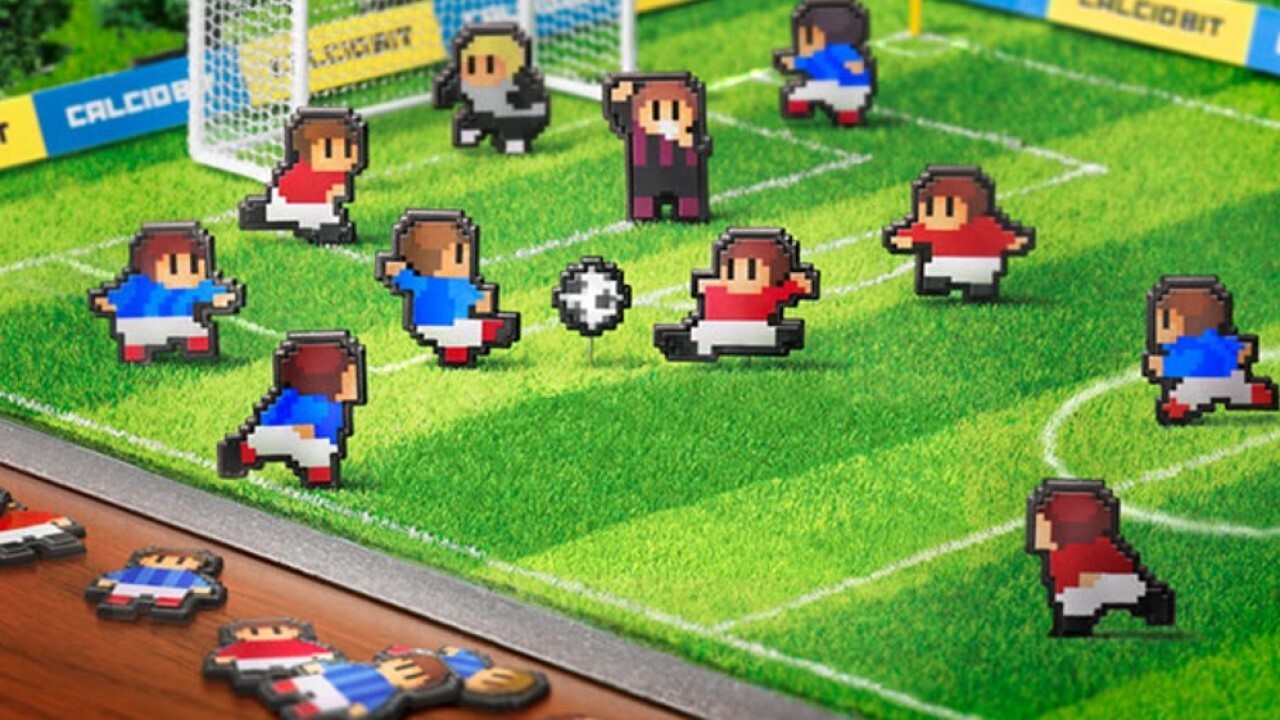 Nintendo Pocket Football Club really needs a sequel on Switch
Nintendo Pocket Football Club was one of my highlights on 3DS and it's about time we had a sequel to ParityBit's simple football management sim on Switch.
Yes, I'm well aware that Football Manager Touch is available on Switch, with its real-world players, teams, and leagues, but it lacks the Nintendo charm and the more simplistic touch of Pocket Football Club that makes it better for casual gamers and those who are put off by the seriousness of Football Manager. While the 3DS download game was not perfect, a new Nintendo Pocket Football Club on Switch could build on its foundations and give us the chance for future chair managers to prove to everyone that our know-how. tactics aren't all about Twitter chats. Keep Mauricio Pochettino, Pep Guardiola and Antonio Conte away, it's up to us to lead the canoe. And with any luck this time around North America could be part of the action as well.
Where Football Manager gives you licenses, screen after screen of stats, and full tactical control over what goes on and off the pitch, the Nintendo Pocket Football Club has provided us with cute graphics, practice maps and fake players. Who needs licenses when you have legendary players like De Koning, Sorokin and, uh, Tourov? Pocket Football Club is a light and airy alternative to Football Manager spreadsheets, depth, and licensing that is lacking in some areas of tactical acuity, but more than makes up for it with a lot of charm.
Nintendo Pocket Football Club has given players a taste of what's available in other football management sims without overloading you with stats and pages. It's a much more user-friendly game that allows players to choose their lineup, sign and sell players, train your team with collected practice cards, choose up to three players to score, choose areas of play (with moving lines) and style of play (balanced play, defense and wait for the odds, and always try to score). There's quite a bit of stuff to figure out, but it lacks tons of tactical options from its peers. There are a number of issues that a Switch sequel should solve, just like any good sequel should.
It's not much fun to watch your team slowly getting decimated or slowly demolishing their opponent. A fast forward option is essential in a potential sequel.
Match-day gameplay is Pocket Football Club's biggest stumbling block. First and foremost, this hypothetical Switch sequel should allow players to change their team's play areas, playstyle, and which opposing players get tagged at any point during a match. On 3DS, you could only change such things during a substitution or at halftime after a match was played. It was a confusing design choice, even if things had to be kept simple.
An argument can be made for more tactical options in general. Nintendo and ParityBit would be wise to keep it light, otherwise you might as well buy Football Manager. However, some improvements would be nice. An increase in rating options could be an option for the development team to target. Choosing which of your players should mark which of your opponents would be a nice addition, as the 3DS Pocket Football Club allows other players to come in far too often when you choose to mark the opposition star striker. Human-to-human tagging options could solve this problem.
Another upgrade could be the proper positions and types of named players. You can already determine which of your team should play where by their stats and somewhat obtuse player-type titles, but it's easier to see if a player is a good fit for a defensive midfielder or a playmaker. , for example, could keep things easy. These are smaller changes that could add to the game without making it too difficult for a more laid-back football management audience to analyze. This cute retro style is an approachable and friendly face for a genre that, from the outside at least, can look incredibly dry to the average player, even football fans. As the best games do, the charm of the original art style could be used as a gateway to a bit more complexity.
One of the most controversial issues with Pocket Football Club, however, and one that needs to be addressed, was that you couldn't fake or even fast-forward matches; you had to watch every game in its entirety (about ten minutes each). This was an intentional design choice by game designer Hiroyuki Sonobe. As stated in our review of the game, "its goal was to replicate the same excitement as a proper football game, making every tackle, run and goal attempt even more exciting."
It worked. You should, however, be able to fast-forward matches, at any time, as you can in Football Manager. It's not much fun to watch your team slowly getting decimated or slowly demolishing their opponent. A fast forward option is essential in a potential sequel.
After adding to the gameplay, Nintendo needs to review the aforementioned aesthetics of the game. Relying on the fantastic charm found in the graphics and presentation of the 3DS game would be awesome. Matches played on 3DS look great with the raised 3D slider, but are a bit flat when played in 2D thanks to the bland design of the pitch and stadium. To make up for the lost depth (and make the most of the hardware increase), the proposed Switch sequel should look more like the fantasy art and box design of the 3DS game – can you imagine anything that looks like it? with the "2DHD" look of Octopath Traveler? Seeing those chunky 3D plastic toy-like sprites running around Subbuteo-esque terrain in HD would be awesome and only add to the game's already excellent sense of retro style.
While Nintendo Pocket Football Club is a fun game with enough depth to keep you playing for dozens of hours, there's no doubt that a Switch sequel could improve its formula and ooze. even more style. Building on its infectious charm and colorful presentation, Pocket Football Club on Switch could add more layers to the game's tactics and be more than an HD reskin. On-the-fly tactical changes and the ability to quickly advance through matches are much-needed improvements. There's more than enough room for competing football management sims on the Switch, and it's time Nintendo took us back to its more digestible and colorful approach to football management.