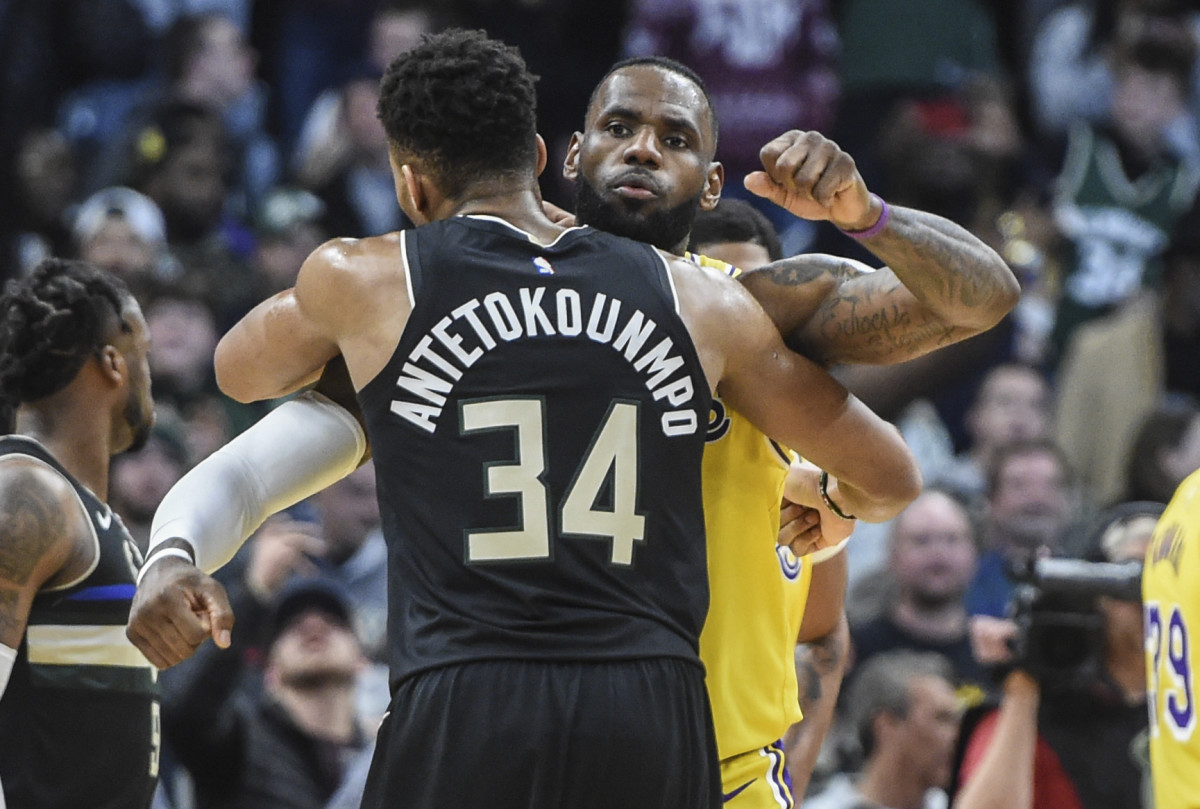 NBA All-Star Weekend: NBA Mid-Season Rewards
[ad_1]
If All-Star Weekend is all about celebrating the individual, as we head into the NBA's mid-season hiatus, it's only fitting that we come up with our annual review of who deserves to win the top six awards. individual league months before they were officially announced.
With 60 percent of the season already behind us, it's not too early to crown the Most Deserving Contestants in the MVP, Rookie of the Year, Defensive Player of the Year, Sixth-Man of the Year, Most Improved categories. Player, and coach of the year. There is certainly a healthy debate as to who deserves just about all the awards with around 30 games remaining on the schedule before the playoffs start and we've explained why – either via the eye test or by backing up our ratings. with hard and cold statistics. As a bonus, we've added our favorite beef from the first four and a half months of play of the season, because the only thing the NBA does better than anoint and celebrate its stars is revel in pettiness.
MVP
Chopz: I know Giannis is a big betting favorite right now and will almost certainly win the prize, but I'll give it to LeBron James. We've become so conditioned for LeBron to be so good that people take him as the norm and don't realize how insane it is for this man to flaunt the numbers he has at his age. He was the best POINT GUARD in the NBA this season. Unreal.
THAT: It's so clearly Giannis Antetokounmpo that it's laughable to seriously suggest someone else. Of course, LeBron James is worthy of the MVP's love given that the Lakers own the West's best record and their offense is a nightmare when he's not on the pitch. But he plays with another top 5 player at Anthony Davis while Giannis' best sidekick is a marginal All-Star. The Greek Freak is averaging 30.0 PPG and 13.5 RPG over 30 minutes per night, absurd numbers. He has the best PER in the game and leads the league in a number of measures such as defensive win shares, defensive odds and defensive box plus / minus. Get him away from the Bucks and Milwaukee are barely a playoff-caliber team in the East. With Antetokounmpo, who has become a more reliable 3-point shooter this season and is poised to be basketball's most unstoppable offensive force since the first Shaq, the Bucks own the best record in the NBA and could become. the third franchise in league history. to reach the magic plateau of 70 victories. In June, he will be the 12th player to win two consecutive NBA MVPs.
Rookie of the Year
Chopz: I'll go with Ja Morant for ROY. I know Zion has shown some crazy flashes since returning from injury, but Morant has always been good since day one of the season. Zion will have a chance to make his point for the rest of the season, but if you're only watching for now, it must be Morant.
THAT: Making an argument for someone other than Ja Morant means you're a clown. The Grizzlies franchise player leads all NBA rookies in PPG (17.6), APG (7.0) and PER (18.3) as he leads a Memphis team that is surprisingly in contention for the playoffs in the West. Morant was the obvious favorite to take home the award when Zion Williamson was sidelined for the first few months of the season, but little Murray State's little playmaker made more of an impact than everyone expected. We've seen him score victories, throw fierce dunks and establish himself as a future superstar at 20.
Defensive player of the year
Chopz: Anthony Davis is the easy answer here. He turned the Lakers into a defensive powerhouse and deserves this award. Yes, you could argue that Rudy Gobert and Giannis deserve it as well, but Davis turned the Lakers from a bad defensive team last season to one of the best this year. Give this honor to AD.
THAT: Shot blockers have historically tended to win this award, as evidenced by Rudy Gobert who has won back-to-back DPOY awards over the past two seasons. But at the All-Star break, the man who came second behind Gobert last year, Giannis Antetokounmpo, deserves the recognition. The Bucks are by far the best defensive team in the NBA and, as mentioned above, Antetokounmpo leads the league in a number of defensive measures. Additionally, the Bucks' defensive rating with Antetokounmpo on the pitch versus off, while impressive, is vastly different.
Sixth man of the year
Chopz: Can we just change that for the Lou Williams award. He's going to win it again and he should win it again. It's not even really a debate either. You could argue that Montrezl Harrell deserves a few votes, but Lou Williams runs this bench unit. Next.
THAT: Everyone knows Lou Williams and Montrezl Harrell's combo is the best in the NBA coming off the bench. Williams has won the award three times, Harrell's major consideration in recent seasons and arguably deserves more this year as he is the only great Doc Rivers to play on the NBA front-runner to win the title. But I'm watching someone play for a team that is outperforming like crazy in Oklahoma City and crown Dennis Schröder as the sixth man of the year winner. He's the league leader in points off the bench and a big reason the Thunder are heading into the playoffs when hardly anyone thought they would sniff the playoffs. He's averaging career highs in just about every category, especially his shooting percentages, while playing starting minutes (31 mpg). Williams scores as usual. Harrell continues to be a beast. But who saw that of Schröder?
Most Improved Player
Chopz: I'm honestly not sure with this one. Pascal Siakam continues to progress to a crazy level, but does he really have to get it two years in a row? It's a bit strange for me, so I'll go with Bam Adebayo, who won his first All Star appearance this year and is an anchor for the Miami Heat's impressive season.
THAT: Pascal Siakam is likely to win this award for a second year in a row as he has taken his game to an All-Star level in Kawhi's absence, but what about another All-Star for the first times in the East which is incredibly impressive Numbers? I give MIP to Bam Adebayo. The third-year Heat forward saw his numbers increase dramatically across the board from his second campaign and deservedly earned his first All-Star nod. Siakam is a perfectly logical and appropriate choice – and it would be unprecedented – but he missed 10 games with an injury while Adebayo has played every game, helping Jimmy Butler and his company to a surprising 35 wins. If you haven't been paying attention to Adebayo, open your eyes and board the Bam train before it fills up.
Coach of the year
Chopz: I think Nick Nurse and Erik Spoelstra both have good records for this price. I would go for Nurse because no one thought the Raptors team would be as good as they are this season after losing Kawhi Leonard and Danny Green in free agency. A fun honorable mention is Memphis Grizzlies head coach Taylor Jenkins. He has this team in a better position than anyone predicted.
THATQ: There are plenty of surprises around the NBA, but who has seen the Raptors run for second in the East after losing Kawhi Leonard? Anybody. The defending champions played amazing basketball under Nick Nurse, so if you ask me, give it to the man who bluntly replaced Dwane Casey two seasons ago and led Toronto to his two most successful seasons. Nurse is one of the few coaches in the league who is ready to make major adjustments to the game or the game when most teams stick to strictly the same script.
Best Beef
Chopz: He was a late candidate for the mix, but I have to go with the Joel Embiid fans against Philly. Not only is Embiid an elite troll, but Philly fans are ruthless, which makes her a perfect storm of little assaults. Who knows if that will actually lead Embiid to leave the 76ers, but at this point it's all a lot of fun.
THAT: Jimmy Butler kissed TJ Warren when the forward was ejected during the Heat-Pacers game in early January in Indianapolis. Both had gotten into it, so spirits had to heat up on the pitch, but Butler stepped up a few notches when he gutted Warren in a post-game interview. Butler called him "soft," adding "he's not even in my fucking league." But Jimmy hadn't finished. He then took to Instagram and posted a photo of the circled date when both teams play again. Clear your schedule and get your popcorn ready for Friday, March 20. That's when the Heat returns to Bankers Life Fieldhouse.
[ad_2]