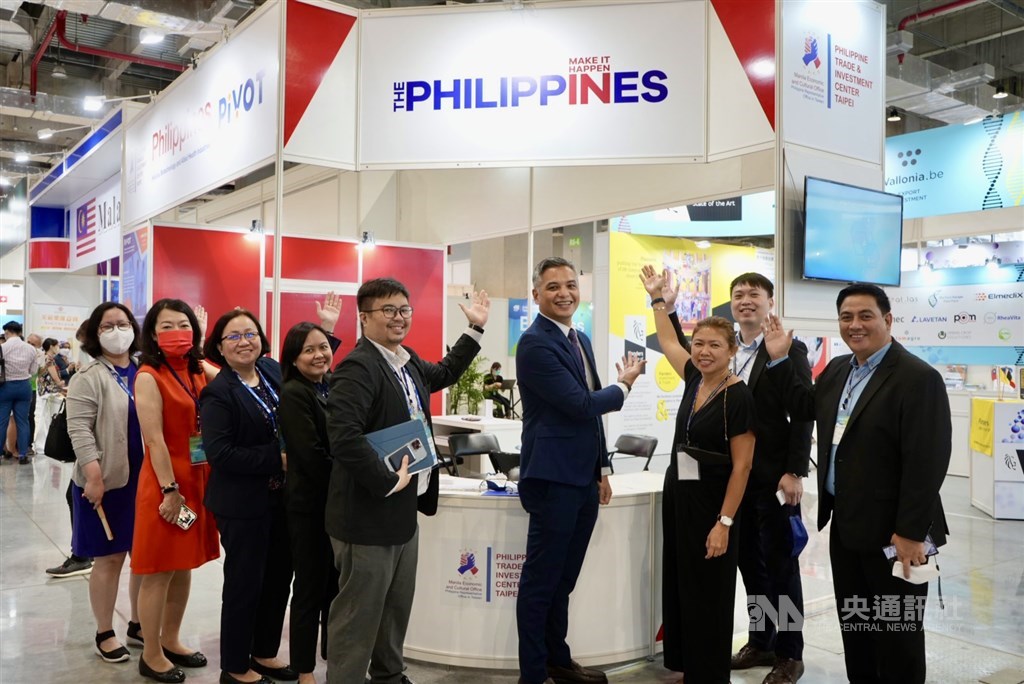 Filipino companies seek ties with Taiwanese biotech companies
Taipei, July 29 (CNA) Philippine healthcare information management companies spearhead the Philippine pavilion at a biotech show in Taipei in a bid to forge partnerships with pharmaceutical companies and other companies in Taiwan.
At the BIO Asia-Taiwan 2022 international conference and expo, which opened on Thursday, two Filipino companies are among 550 exhibitors from about 15 countries looking to explore business opportunities with Taiwan's biotech sector, according to organizers. of the event.
Anthony B. Rivera, director of commercial affairs at the Philippine Trade and Investment Center (PTIC-Taipei), said he is looking to develop engagements with the Taiwanese market as it connects to other global markets. engaged in Health Information Management Services (HIMS).
"The Philippines is known around the world as an important source of quality and innovative healthcare-related services. This is a great opportunity to promote our bio and healthcare related capabilities to key players in the healthcare value chain in Asia," Rivera said.
Philippine companies, Pointwest Technologies Inc. and Pi Health Inc.-PiVOT CRO, presented selected healthcare solutions and services such as clinical trial management for drugs and medical devices, revenue cycle management , end-to-end pharmacovigilance services, clinical data management, cloud migration and robotic process automation services, among others, as required by global pharmaceutical, biotechnology and contract research companies, according to PTIC-Taipei.
Juanloz L. Botor of healthcare information technology company Pointwest Technologies told CNA that this is the first time his company has participated in BIO Asia-Taiwan and that he is looking for companies to collaborate with. in terms of sharing their technological capabilities and expertise.
"And also see if there will be any partners that we can work with and probably bring in the services of qualified Filipino professionals in data management, adverse reaction reporting and support," Botor said.
Meanwhile, Pi Health Inc.-PiVOT CRO Pharmacovigilance and Regulatory Officer Charles Suarez said PiVOT is a contract research organization, which currently has 10 active studies.
"We hope to be successful here in Taiwan, even though PiVOT is a startup, but can show them PiVOT's ability to support international trials, international pharmacovigilance and data management," Suarez told CNA.
The Philippine HIMS sector is expected to see its revenue increase by 7.3% to 10% to reach US$5 billion in 2022, according to Philippine Secretary of Commerce and Industry Alfredo E. Pascual.
The Philippines aims to become a destination for voice and non-voice integrated services, as well as clinical and non-clinical trials whose local sector extends to areas such as life sciences, robotics and big data to fully support a proactive approach. and a world-class, end-to-end customer service experience, according to Christopher Lawrence S. Arnuco, Director of the Export Marketing Bureau of the Department of Commerce and Industry of the Philippines.
"Filipino service providers have demonstrated an innate culture of care and capability and that is why we aim to venture into new markets starting with Taiwan," Arnuco said.
Bio Asia Taiwan, which will be held from July 27 to 31 at the Taipei Nangang Exhibition Center, also features internationally renowned speakers, forums and workshops, and one-on-one business meetings.
The event brings together biotech and pharmaceutical executives and investors from North America, Europe and Asia, according to information on the event's website.