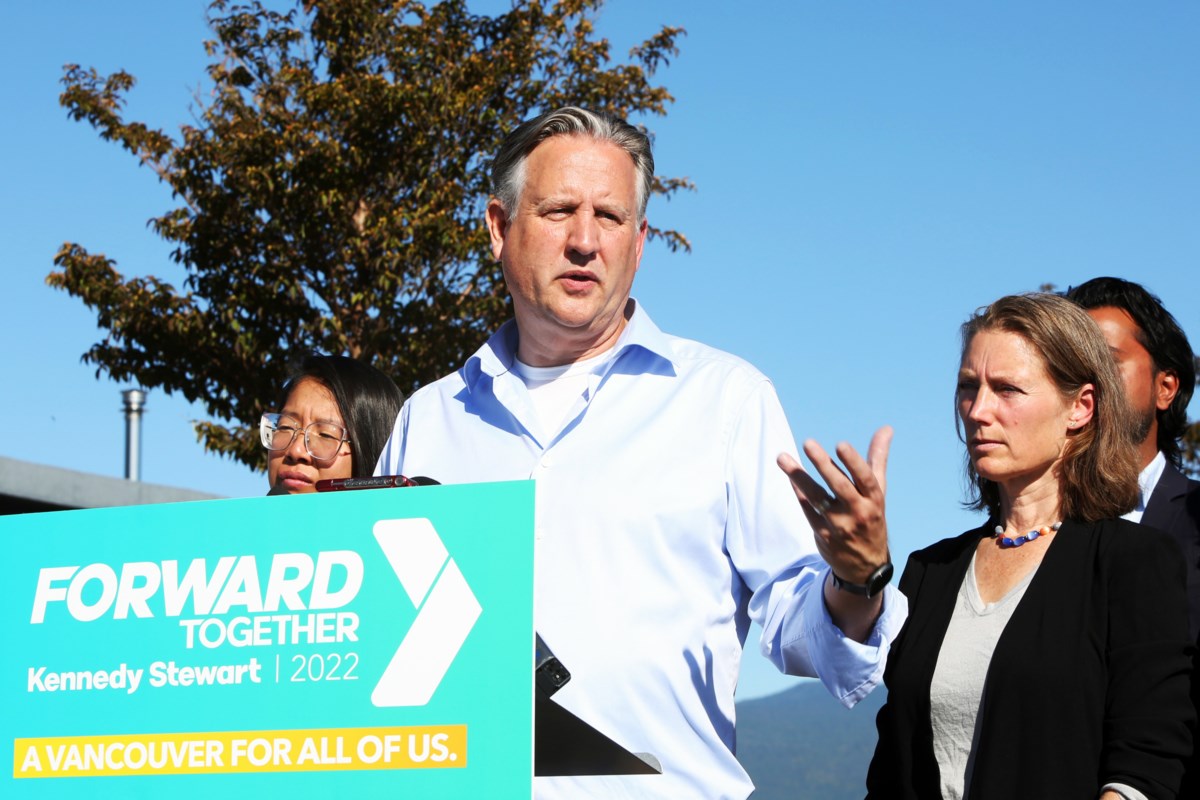 Elections BC acquits Kennedy Stewart from campaign donor list
Housing advocate says mayor's Forward Together party not acting in 'spirit of law'
Elections BC has cleared Mayor Kennedy Stewart and his Forward Together party of any violation of the law that governs campaign finance in relation to a list of donors found on a sidewalk last month by a homeless man.
Melanie Hull, communications adviser for Elections BC, said in an email Thursday that the agency found no violations of local campaign finance law and considered its review of the matter complete.
"Our review revealed that the spreadsheet is a planning document related to fundraising," Hull said. "It documents the efforts of fundraising captains. The contributions listed in the document do not indicate individual contributions, but rather the fundraising goals and accomplishments of each Captain.
The two-page document found by Stanley Q. Woodvine on September 13 on a sidewalk near City Hall is in spreadsheet form and lists the names of various prominent businessmen and the amount of their contribution in 2022.
Francesco Aquilini a "captain" of fundraising
Among the 41 names are Vancouver Canucks owner and developer Francesco Aquilini ($64,350), Wayne Pai of Landa Global Properties ($22,489), Ajay Dilawri of auto retailer Dilawri Group of Companies ($20,153), the real estate veteran Bob Rennie ($12,500), Molnar Group's Dak Molnar ($11,200), Concord Pacific CEO Terry Hui ($8,200) and Kerry Bonnis of Bonnis Properties ($3,750).
Each person on the list appears under the heading "captain" and each has a fundraising goal. For example, Aquilini's goal is $110,000, Dilawri's is $50,000, and Hui's is $31,250.
"We have confirmed that the captains themselves are properly appointed by the election organization's financial agent and are aware of the contributor eligibility rules as well as the $1,250 contribution limit," Hull said. .
"We have also confirmed that all contributions reflected in this spreadsheet have been reviewed and processed by the Fiscal Agent, and that the correct source of the contribution has been recorded appropriately."
Responding to Elections BC's ruling, Stewart said in an email that he was "gratified" the agency confirmed his party was in full compliance with campaign finance rules.
"We were the first and remain one of the few parties to release our list of donors, which goes beyond what we are required to do by Elections BC," Stewart said.
"The Spirit of the Law"
Housing lawyer Rohana Rezel and TEAM for a Livable Vancouver were two of the complainants who asked Elections BC to investigate the document. Both raised concerns that the amounts listed on the document exceeded the authorized $1,250 per person.
Reached Thursday by phone, Rezel said he was disappointed with Elections BC's decision.
"It seems that [Forward Together] complied with the letter of the law, but not the spirit of the law," he said.
The law, he said, allows what amounts to a loophole whereby captains — "who are essentially convicts" — can raise more than the allowed $1,250 by seeking funds from family, friends and wealthy businessmen in their network.
"When you name these wealthy developers and other corporate people as captains, you have a huge advantage," Rezel said. "And these people can easily surprise their opponents who choose to follow both the letter of the law and the spirit of the law."
'It does not smell good'
Bill Tieleman, a council candidate with TEAM, said he was happy to know the rules were being followed by Stewart and his party. But he echoed Rezel's concerns that the spirit of the law was not being followed by heads of development companies and other companies acting as fundraising captains.
"It creates the perception of a conflict of interest when a city council's fundamental role is to regulate the development industry as a whole," Tieleman said, citing concerns about a donor later coming to the council to approval of a development project.
"People who donate huge sums of money and raise huge sums of money to get people elected and then have multimillion-dollar projects approved by the same people don't smell good."
TEAM, which released its donor list this week, does not accept developer donations.
Integrity Commissioner's investigation
Meanwhile, a separate request from TEAM for City Integrity Commissioner Lisa Southern to investigate whether Stewart's chief of staff, Neil Monckton, and communications director, Alvin Singh, were in a conflict of interest regarding their involvement in the Forward Together fundraising campaign did not begin.
Their first names appear on the document found by Woodvine. The party said Vancouver is awesome that Monckton took a leave of absence from city hall on September 10 and Singh, who is running for council, on August 22.
Southern and a representative from his office said in emails this week that the city's code of conduct requires the commissioner to dismiss any complaints received about a council member seeking re-election in the period from the last day of the term. of nomination on the day of the general vote, which is October 15.
The last day of the nomination period was September 9, 2022.
Southern said that once a complaint is dismissed, it cannot relaunch it and must be refiled.
"As of October 16, 2022, the Integrity Commissioner will be able to review complaints involving elected members of council that fall within the jurisdiction of the Integrity Commissioner and that were filed within 180 days of the alleged violation, as provided for in Part 6 of the Code of Conduct Regulations," Southern said in an email Friday. "Beware, if the subject of the complaint is not reelected, the Code provides that must dismiss the complaint."
Stewart said Vancouver is awesome at an earlier press conference, his staff members did not participate in soliciting donations while employed by the city, saying "we made sure to keep the lines clear there" .
A recent poll shows Stewart, who was elected in 2018, is in a tight race with ABC Vancouver mayoral candidate Ken Sim.
@Howellings