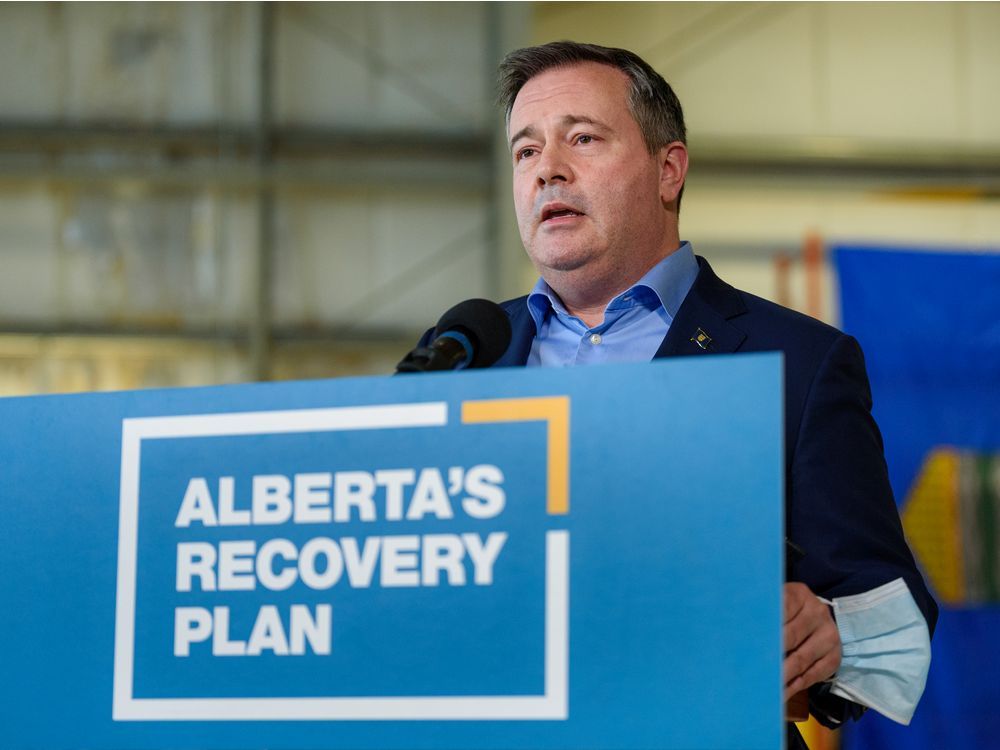 Alberta Premier Doesn't Apologize, Calls Internal Opponents 'Crazy'
Content of the article
Prime Minister Jason Kenney says he won't apologize for comments he was recorded calling some of his internal enemies 'crazy'.
Content of the article
Kenney is weeks away from a leadership review that has become increasingly controversial after the voting process shifted from an in-person event in Red Deer to mail-in ballots.
Private remarks he made to staff were secretly recorded and leaked to the media earlier this week. On the recording, he is heard saying "crazy people are trying to take over the asylum" but that he will not let the party "become an agent of extreme, hateful, intolerant, bigoted and crazy views".
At a news conference on Friday, Kenney said that while the majority of party members don't hold extreme views, that element is at stake.
"I am determined to ensure that these hateful, extreme and divisive voices do not find their place in this broad and traditional conservative party," he said.
Content of the article
"It's an issue that's very much at stake here and I won't apologize for calling that kind of a divisive voice."
Earlier this week, the party canceled the in-person leadership review, citing concerns about the more than 15,000 people who had already registered to vote.
The decision drew criticism from some members of Kenney's caucus, including two who called for his resignation on Thursday.
UCP MP Jason Stephan said Kenney stoked division and fear with rhetoric that smeared those who disagreed with the prime minister as extremists.
"Labelling individuals and misrepresenting them, or labeling an entire group by the actions of a few is wrong. It only creates division and discord and I don't want that anymore," Stephan said.
Content of the article
Kenney said on Friday he believed he had majority support in his party, but was considering stepping down in December.
"I have come to the conclusion that would open the doors to an incredibly divisive cycle of leadership and divisive elections in one party from which we may never recover," he said.
Also on Friday, two groups that garnered votes against Kenney said they were concerned about the surge in membership in the final days of the campaign and planned to ask Elections Alberta to investigate.
Vitor Marciano, spokesperson for MPP Brian Jean, who has openly campaigned for Kenney's job, and David Parker of the citizens' advocacy group Take Back Alberta, said that in the final days before the March 19 deadline to qualify to vote, party membership went from about 29,000 to 55,000 members.
Content of the article
They say they fear the Kenney campaign bought memberships for people or signed them up without their knowledge, charges the Kenney camp denies.
In a statement, Harrison Fleming, spokesman for Kenney's leadership review campaign, said they would welcome an audit of new members signed by both parties.
"We can absolutely confirm that each member, registered through a campaign event hosted by Jason Kenney's team, has signed their forms and paid the $10 fee," he said.
"While Mr. Jean and his friends may want to spend their time suing the UCP to stop members from voting, we are encouraged by the widespread interest of UCP members to remain engaged and active in this conservative movement in large scale."
Marciano and Parker also said some of the ballots in question were paper ballots, while others were added electronically and shipped through a web portal set up by the party.
UCP spokesman Dave Prisco, when asked about the party's establishment of a web portal for Kenney, said such portals were commonplace and legal.
"Their goal is to entice candidates to do the data entry work for us. They must always follow all of the rules outlined on our website," Prisco said in a statement.
— With files from The Canadian Press and Lisa Johnson